Generous giving
As a kids ministry we support a boy in the Phillipines. His name is Federick!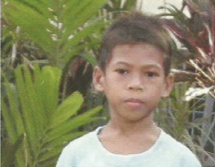 We sponsor him through Compassion.
He is 9 years old, is in Grade 3 in school and attends Kids Club Central Ministry at his church in the Philippines. He lives with his mother and father, his sisters Jenny Mae and Jennifer and his brothers Archemides and Nicole John.

Federick asks us to pray that the river near his house would not flood as when it does he cannot get to the school or project.
He also says, "Thank you kids for the drawing and writing and all your prayers."

If you want to draw a picture or write to him you can bring them to bridgeKIDS and I'll mail them to him for you.

Our generous giving in bridgeKIDS each week goes towards his sponsorship. Thanks for helping us give to him and his family.