Art Gallery
Dandelions by Herta Klassen
A VISIO DIVINA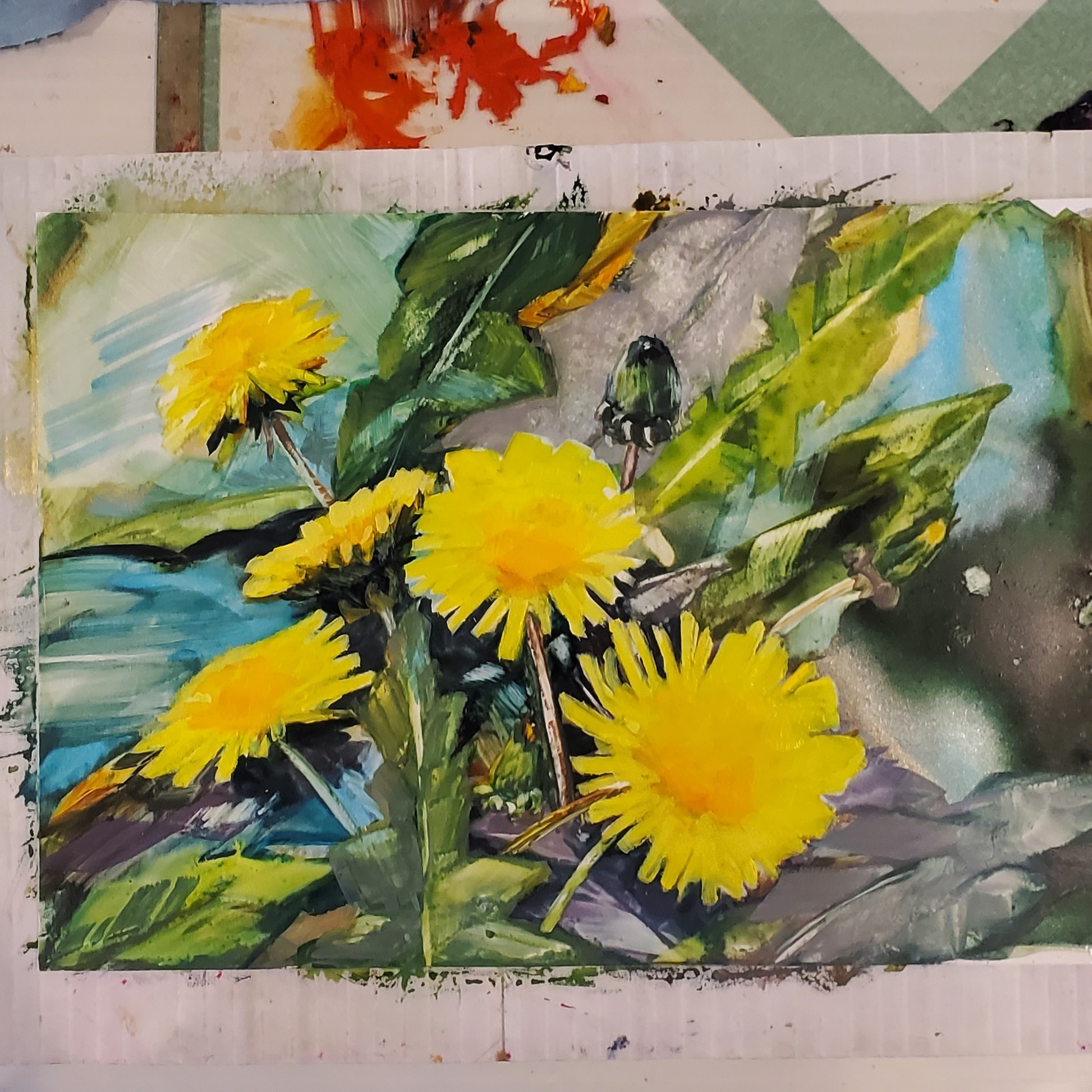 This is a partly finished painting. And I hope you all recognize those those little yellow bursts of sunshine. I want something that wasn't finished because so much of life isn't finished. And I thought maybe we could relate to that a little better than something that's all polished and beautiful. I did a few dandelion paintings, and I called it beauty and ordinary. I love to find fine beauty in what surround me. So hence the dandelions.

Visio Divina is the practice of sacred seeing. It's a prayer practice that creates space to listen and pay attention to the holy in our lives, based on the sixth century monastic practice of Lectio Divina, where the object of prayer is a passage of Scripture allows the spirit to speak through images.

So just take a minute just to take a couple of deep breaths and just settle in.
Look at the picture.
As you settle in, move your awareness from your head into your heart, and know that God can be known through many different forms and images.
Be present and be open.
Allow your eyes to gaze on this image. Let them sweep the whole picture.
Notice shapes, colours, lines, details, look for symbols.
Notice if there is a place on the image where your eye is invited to linger.
Are you called back again and again to a certain detail or colour?
Try not to think about it too much. Just notice.
Also notice where your eye might be avoiding or passing over.
Where do you experience resistance?
Slowly become aware of the place on the image that is just for you today. It might be a colour, a shape, a tiny detail. Just stay there for a long time. Be open and present to it.
Take a second longer look, open your imagination as you reflect on your place, on the image.
What feelings or longings come up for you!
Are there any memories or hopes? A better story?
Just make room with your heart for whatever wants to emerge for you.
Don't critique. Be present. Just simply be and open to your heart to whatever wants to rise up.
Slowly begin to notice what what's being revealed in your seeing and through what you're feeling.
What might be the invitation to you today, this at right now, this moment?
In the day to day life that you're living. What is God calling you to do, or to be?
Did you gain any insights?
Is there an invitation growing in it?
Easter Garden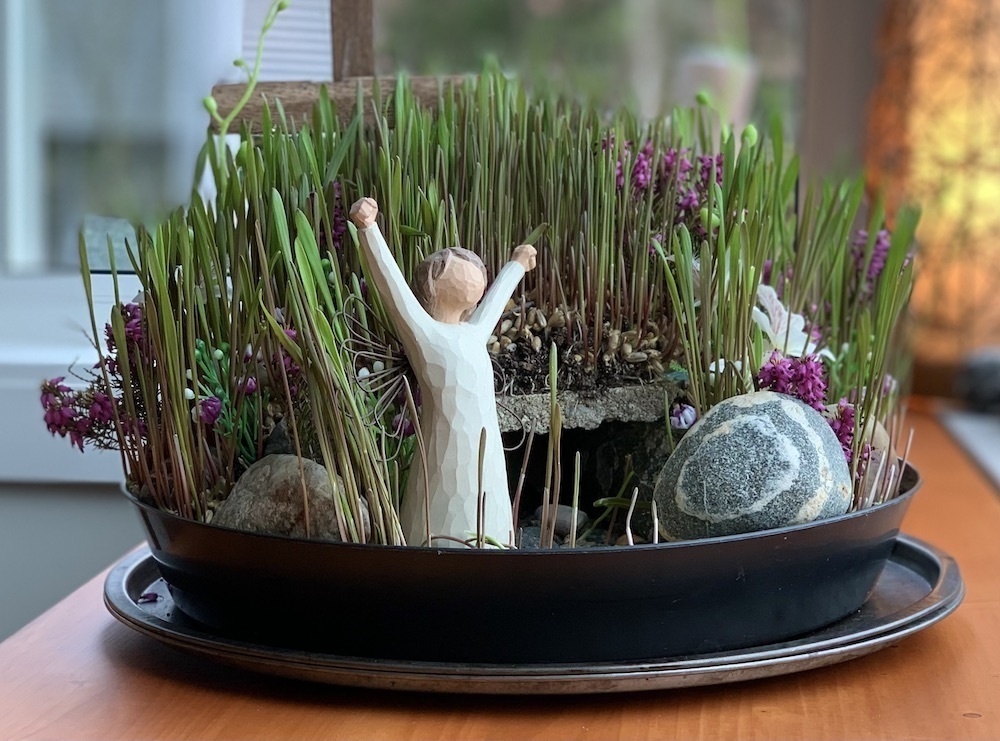 Kathy created a garden for Easter. It has an empty tomb with a stone rolled away by the very enthusiastic looking angel. There is rye grass growing over the tomb and other purple flowers in the soil surrounding. From death comes life.
Blessed are the Peacemakers
Our current theme is Blessed are the Peacemakers, our artists have been tasked with creating on this theme.
Blessed are the peacemakers by Kathy Klassen
Image description.
A mixed media collage image.
Top left: a washing line with the words We are not a number above and a red dress with coloured ribbons hanging from it, behind the dress is an image of a forest reflected in the water. Superimposed on the dress is the words 'Learn, Act and Truth and Reconciliation.
Top right: A tent with a barefoot, bearded person sitting outside of it in the rain. Above the tent is the word 'Love' There are other smaller pieces of text - fragments of poetry by Taylor Leonhardt. Words on the tent - lack of resources, recognize individuals in Abbotsford, CARE
Centre: Two coffee mugs with the word LISTEN and song lyrics: What the world needs now is love, sweet love... not just for some but for everyone.
Bottom left: A photograph of a stop sign and crowd of people on the corner of Chicago Ave and E 38th Street in Michigan. Painted is the black lives matter clenched fist with the words 'His name is George Floyd' in white around the fist.
Bottom right: The sunflower image on a blue background (Ukraine symbol) with the words 'Pray' and 'Grow' and the lyrics 'All we are saying is give peace a chance.
End description.