Where & When
We have two modes of meeting that run in parallel to one another.
All gatherings are between 10:30 and noon.

We are On Zoom Only on the 1st and 3rd Sundays of the month
We are Live and On Zoom on the 2nd and 4th Sundays of the month

Holiday weekends are #bridgeselfiesunday with no large group gathering
(Subscribe to the calendar or check the homepage to always be in the right place whatever the week)
Our Live Venue
When live we are meeting at The Legacy Sports Centre, Abbotsford. It's beautifully central to Abbotsford and has lovely big windows, lots of parking and plenty of outdoor space for kids.
3279 Trethewey St. Abbotsford, BC V2S 4N4
Drive in via Gate 1 on Trethewey marked with our Bridge flag banner.
Turn right towards the running track.
Drive in as many rows as you can and park nearest to the running track.
Walk past another flag, between the field and the building ahead of you.
You'll pass a whole bank of changing rooms.
The next building is the Legacy Sports Centre, look for the sandwich board that says enter here (blue diamond on the map).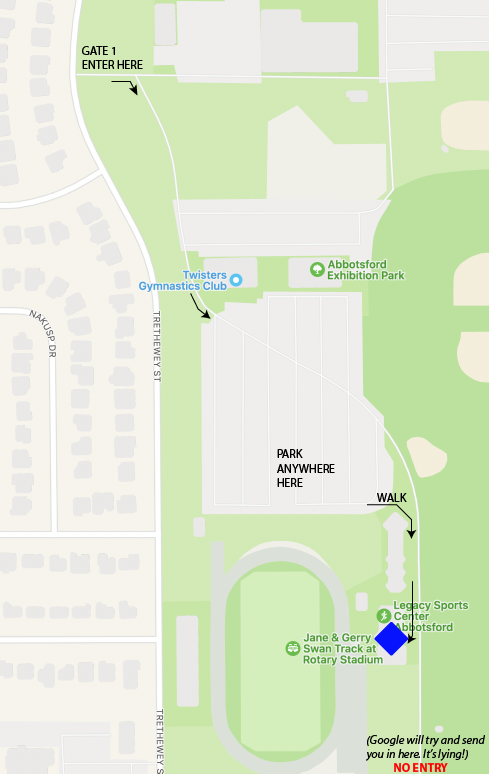 Going forward - 2022 and beyond...
Because community and accessibility are important to us we will continue running zoom in parallel to our in person gatherings so those who are too far away, sick, or not comfortable with being in person can join us that way.
ZOOM
We value seeing each other's faces and being able to talk in real time. If you would like to join us in our ZOOM space you are very welcome to do so. Send a message to Sarah to be added to the invite list. To find out more about what that experience is like visit the New Here section.
Our staff team all live, work and play on Sema:th territory, part of the land of the Sto:lo people.
If Abbotsford is not your home you can find out where you live by using the tool on this site:
For more information please go to the "New Here" button...