What is Compassion Camp?
As we look around the world, what becomes clearer each day is our deep need for compassion - now more than ever. We hope to cultivate compassion for each other, ourselves, and the world and through the summer we'll be looking at different places in our lives where we can cultivate compassion: At the Table, To the Neighbour, For Myself, Along the Way, With the World
BridgeKIDS@HOME: To myself
Compassion helps me love myself. This is our theme for the next few weeks. We have heard that compassion makes us brave when we see others in need. These next couple of weeks we'll be learning that compassion means showing gentleness and kindness to ourselves as well!
One way we understand how to love others is by loving ourselves.

Sing Along!
The song for this theme reminds us that we can love others best when we remember that God loves us and that we love ourselves. Click the picture to take you to the song video and watch me sing along with myself!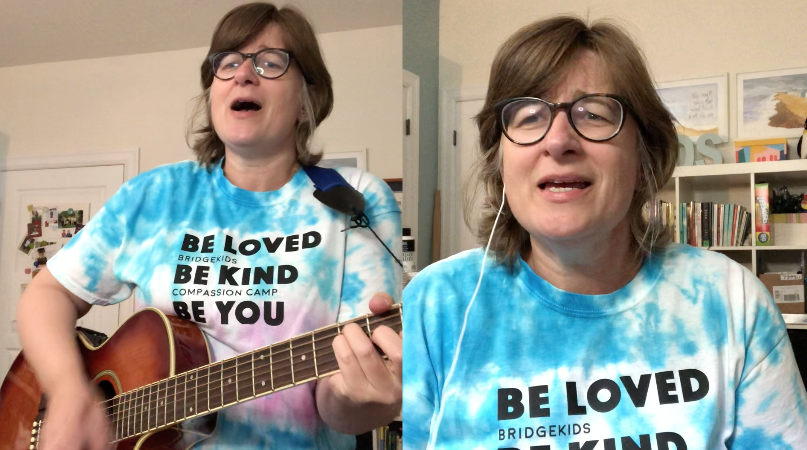 Think About It
What does it mean to love ourselves?
Why is that important?
Challenge
Make a tee shirt for Compassion Camp.
Find or buy a white teeshirt - they are 5:99 at Michaels right now and often BOGO cheaper
Decorate the teeshirt in whatever way you like - I tie died mine but you can do whatever you want on yours.
Bring it to me and I will put the words on the front for you
Be loved - be kind - be you!
To Pray Together:
Gentle One,
Thank you for your Spirit within us
who guides, encourages, and strengthens us.
Help us see ourselves through your eyes
with love, kindness, and deep joy.
May we love our bodies, treasure our hearts and celebrate our spirits.
Amen
What is bridgeKIDS doing to stay connected?
July 26: bridgeKIDS@HOME - For Myself, Part 1
August 1: HIKE - Saturday morning, August 1 - I'll tell you where and when to meet next week
August 2: NO bridgeKIDS@HOME
August 9: brigeKIDS@HOME - For Myself, Part 2
Watch out on Saturdays July 25 and August 8 for your zoom invite